Exhibitions
Minimal/Conceptual: Dorothee and Konrad Fischer and the Art Scenes in 1960s and 1970s (Jan. 22 - Mar. 13, 2022)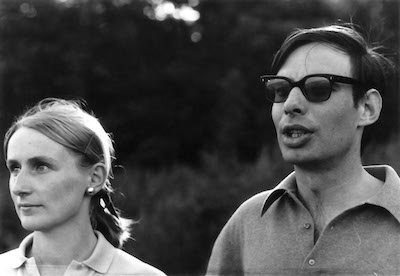 Dorothee Fischer and Konrad Fischer 1969, Photo: Gerhard Richter
Outline
Minimal art and Conceptual art are two trends which brought about decisive changes to art in the latter half of the twentieth century. In this exhibition, with the collection of Dorothee and Konrad Fischer, who were deeply involved with the generation and development of these trends, at the core, we hope to define the essence of these two trends through works by eighteen representative artists and related archive materials.


Minimal art developed mainly in the US and is characterised generally by its use of industrial materials and ready-made articles such as metal plates and fluorescent lights, simple geometric forms like squares and cubes and their repetition, etc. Conceptual art, which emerged after Minimal art and spread internationally during the same period, emphasized the artist's thoughts more than the material work produced by the artist. In Conceptual art, the idea or concept was considered the most important element in art.


Konrad Fischer, who studied at the Kunstakademie Düsseldorf and was active as an artist, promptly showed an understanding of the artists demonstrating these new trends. Together with his wife Dorothee, he opened an exhibition space in Düsseldorf in 1967. There, through innovative processes, they realised exhibitions together with young American and European artists. Rather than having the completed works sent from the artist's studio, Dorothee and Konrad Fischer had the artist come to produce the works in Düsseldorf. Alternatively, based on instructions sent by the artist, Fischer would carry out the production and display of the works together with craftsmen or engineers at the exhibition space.


Dorothee and Konrad Fischer collected works by the artists whose exhibitions they had undertaken and, at the same time, kept multifarious archive materials such as letters, instruction notes, and drawings concerning the production process. These works and archive materials have been acquired in recent years by the Kunstsammlung Nordrhein-Westfalen, Düsseldorf, as the Dorothee and Konrad Fischer Collection and Archive.


In the current exhibition, with the overall cooperation of the Kunstsammlung, we will introduce rare works and archive materials clarifying their production with focus on the 1960s and 70s, the period during which Minimal art and Conceptual art unfolded radical developments. By also including major works from collections in Japan, we shall look back on these two art trends, which have had a significant influence on art of the present day, too.


Artists:
Carl Andre, Dan Flavin, Sol LeWitt, Bernd and Hilla Becher, Hanne Darboven, On Kawara, Robert Ryman, Gerhard Richter, Blinky Palermo, Daniel Buren, Richard Artschwager, Marcel Broodthaers, Lothar Baumgarten, Richard Long, Stanley Brouwn, Jan Dibbets, Bruce Nauman and Gilbert & George


Opening Hours, Closed, Admission
10:00-18:00
Open until 20:00 on Fridays
(Last admission; 30 minutes before closing)
Closed on Mondays
Adults: ¥1,400 (¥1,200)
University and High-school students: ¥1,100 (¥900)
Junior high school students and under: Free
* The price in brackets is for an advance ticket and a discount ticket for group of 20 people and over.
* Including the admission fee for the Collection Galleries.


Exhibition
Organized by Aichi Prefectural Museum of Art, Nikkei Inc., and Kyodo News
Co-organized by Kunstsammlung Nordrhein-Westfalen, Düsseldorf
Supported by Consulate General of the Federal Republic of Germany Osaka-Kobe, Goethe-Institut Tokyo
With the cooperation of JAPAN AIRLINES



Catalog
"Minimal/Conceptual: Dorothee and Konrad Fischer and the Art Scenes in the 1960s and 1970s"
Japanese and English edition
Special price for visitors: ¥3,500 (incl. tax)
[ISBN-13]978-4-7641-0730-4