Exhibitions
Five Ukiyo-e Favorites: UTAMARO, SHARAKU, HOKUSAI, HIROSHIGE, and KUNIYOSHI (Apr. 3 - May 31, 2020)
The special Five Ukiyo-e Favorites; UTAMARO, SHARAKU, HOKUSAI, HIROSHIGE, and KUNIYOSHI exhibition finished earlier than scheduled to prevent further expansion of coronavirus infection. We apologize to everyone who was still looking forward to visiting the exhibition and appeal for your kind understanding.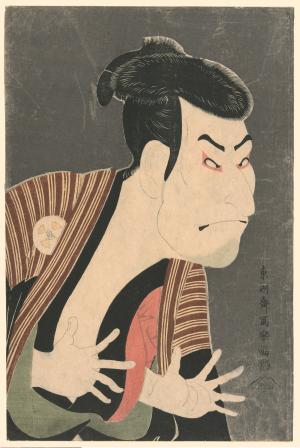 Tōshūsai Sharaku, The Actor Ōtani Oniji III as Edovei, May, 1794, Ōban nishiki-e, The Art Institute of Chicago, Clarence Buckingham Collection
Photography ©︎ The Art Institute of Chicago
Outline
This exhibition focuses on Kitagawa Utamaro, Tōshūsai Sharaku, Katsushika Hokusai, Utagawa Hiroshige, and Utagawa Kuniyoshi, five of the most popular ukiyo-e artists in the history of the genre, which flourished until the late 19th century. Supervised by the International Ukiyo-e Society, the exhibition features a wealth of outstanding works, preserved in practically original condition, from both Japanese and foreign museums, and private collections. The works are especially notable for their brilliant colors and excellent printing. Moreover, some displays will be changed during the exhibition period, providing viewers with a chance to see alternative versions of the same work. This collection of masterpieces highlights each artist's distinctive features, including Utamaro's bijin-ga (pictures of beautiful women), Sharaku's portraits of kabuki actors, Hokusai and Hiroshige's landscapes and bird-and-flower pictures, and Kuniyoshi's depictions of heroic warriors and witty caricatures.
Opening Hours, Closed, Admission
10:00-18:00
Open until 20:00 on Fridays
(Last admission; 30 minutes before closing)
Closed on Mondays, May 7
(Open on May 4)
Adults: ¥1,400
University and High-school students: ¥1,100
Groups of 20 people and over: Adults ¥1,200, University and High-school students ¥900
Junior high school students and under: Free