From the Kimura Teizo Collection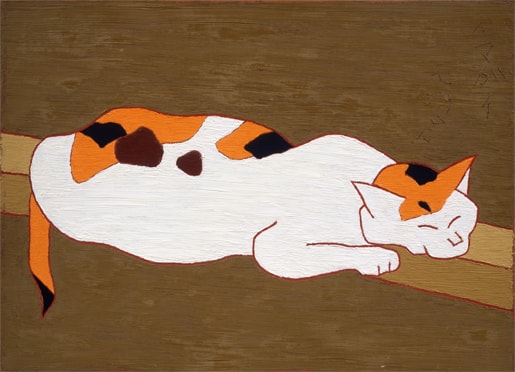 Kumagai Morikazu,
Cat, 1965
Kimura Teizo first encountered the work of painter Kumagai Morikazu (1880–1977) at the age of 25, and spent the rest of his life not only collecting Kumagai's work but also trying to communicate its appeal to others by organizing exhibitions and publishing collections. The Kimura Teizo Collection includes more than 200 works by Kumagai. Of these, the well-known work Cat portrays skillfully while boldly omitting many elements a stray cat that often visited Kumagai's house sleeping on a veranda. Sketches for this oil painting reveal that only two floorboards were depicted.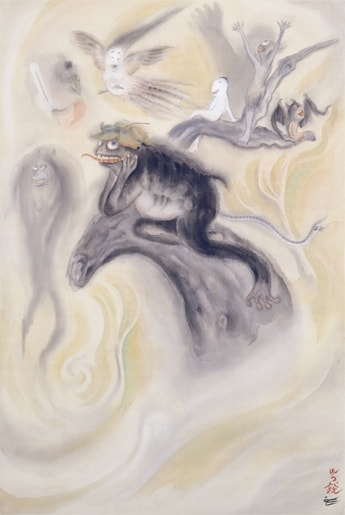 Ogawa Usen,
Tree Spirits out on an Early Summer Day, 1921
Various monsters, including a crow-billed goblin, a birthing woman ghost, a one-eyed goblin, and in the center a kappa, or water goblin, relaxing on a tree, seem to move around at will surrounded by swirling vapor. At the age of 26, Ogawa Usen (1868–1938), who studied Western-style painting in Tokyo, moved back to his home in Ushiku, Ibaraki Prefecture. He produced illustrations, cartoons and haiku pictures while working as a farmer before concentrating on Nihonga (Japanese-style painting) at the age of around 50. The natural environment of Ushiku, whose marshes have their own kappa legend, is a source of not only blessings and calm but sometimes also disaster in the form of floods and epidemics. Usen portrays vividly with touches of humor the various ghosts and goblins that entered his consciousness while living in this environment.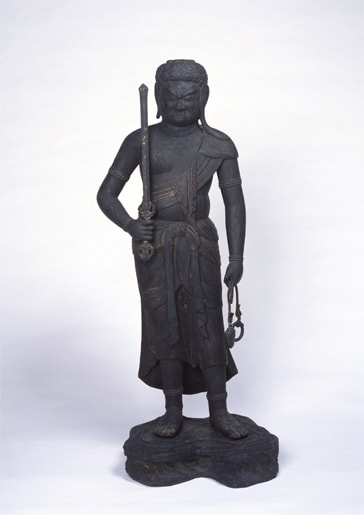 Statue of Fudo Myo'o (Acala) ,
late Heian period (12th century)
Holding a sword in its right hand and a lasso in its left hand, this statue of Fudo Myo'o (Acala) wears a fierce expression in order to save even the difficult-to-enlighten. Though Fudo Myo'o is naturally unearthly in appearance, this statue shows signs of the soft Japanese style established by the 11th-century Buddhist sculptor Jocho while also having a feeling of massiveness, and is thought to have been made in the 12th century. The kirikane gold foil decoration and painting on the surface are also sophisticated, making this one of the finest Buddhist statues in the Kimura Teizo Collection. When this statue was taken apart for repairs after entering the museum's collection, a fragment of a Buddhist painting dating from the Kamakura–Nanbokucho period (early 14th century) was discovered inside. The original silk canvas, paint and backing material were intact, making it a rare and valuable source of information on the mounting techniques of the period.

Yosa Buson,
Mt. Fuji Seen beyond Pine Trees,
mid Edo period (late 18th century),
Important Cultural Property
Beyond a row of pine trees that appear to be moving in a lively fashion, a white Mount Fuji stands out clearly against a dark sky, displaying a majestic presence. A native of Osaka, Yosa Buson (1716–1783) moved to Edo (present-day Tokyo) and studied haikai (seventeen-syllable verse) before eventually settling in Kyoto and beginning to paint in earnest from the age of 36. Buson, who studied Chinese Ming- and Qing-dynasty painting, is not only regarded as having perfected Japanese literati painting together with Ike no Taiga, but also helped perfect haikai painting. Produced towards the end of his life, this magnificent work is one of the so-called "san yokomono," or "three major horizontal hanging scrolls," painted by Buson around this time, the others being Snowclad Houses in the Night (National Treasure) and The Peaks of Mount Emei (Important Cultural Property). Various comparisons are woven into the concise motifs of Mount Fuji and the pine trees in this fine example of Buson's haikai-like expression.
Urakami Gyokudo,
Mountains Dyed Red by Autumn Foliage,
late Edo period (early 19th century),
Important Cultural Property
This work depicts autumn foliage on mountains by the water's edge looking "redder than if painted with rouge." Gyokudo (1745–1820) served as a samurai in Okayama but liked to play the koto and at the age of 50 he left his clan to devote himself to the arts, roaming the country from Aizu (Fukushima) to Nagasaki. Like this work, which is signed "produced by Gyokudo while drunk," many of the paintings he produced supposedly for his own enjoyment were completed while imbibing alcohol. Within the picture plane of this horizontal hanging scroll, gently sloping mountains have been rendered using a dry brush, with leaves and moss dots on the trees on the mountains and the water's edge in the foreground painted in red and yellow. With its bright colors, this beautiful work is unusual among Gyokudo's oeuvre of mainly ink-wash paintings.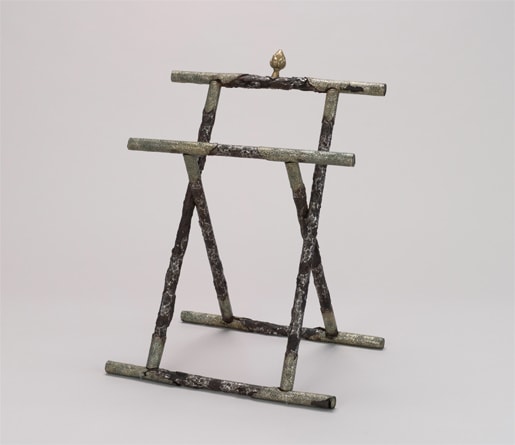 Mirror Stand, Goryeo period (11th century)
Mirror stands were used to hold mirrors during the application of makeup. Only a few examples of Goryeo period mirror stands in which two sets of supporting legs, one large and one small, intersect to form an X exist even in Korea, and based on its decorations and other features, this work is thought to be the oldest in existence. The decorations on this piece, which is rich in Buddhist-inspired elements, include those made by incising patterns consisting of lines and planes in the metal rods and inlaying silver and gold into the carved areas. It displays many of the hallmarks of Goryeo-period culture, when large numbers of craftworks were produced using sophisticated techniques.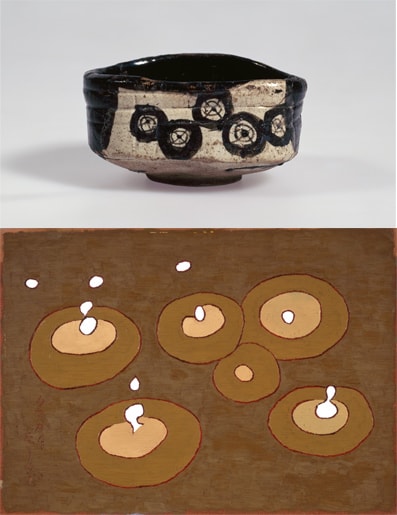 Black Oribe-style Tea Bowl with Linked-ring Design, named 'Samidare',
Momoyama period (early 17th century) and Kumagai Morikazu, Raindrops, 1961
Tea bowls make up a particularly large proportion of the ceramics in the Kimura Teizo Collection, reflecting Kimura Teizo's interest in these items based on his own staging of tea ceremonies. The collection includes six black-glazed Oribe ware tea bowls, a type of bowl produced mainly over several decades in the early 17th century, all of which have a similar appearance. According to the writing on the box, this work was given the name Samidare, meaning "early summer rain," by artist Kumagai Morikazu, who likened the five touching circular designs to ripples caused by rain falling in a puddle. Kumagai later referred to this work when he painted Raindrops.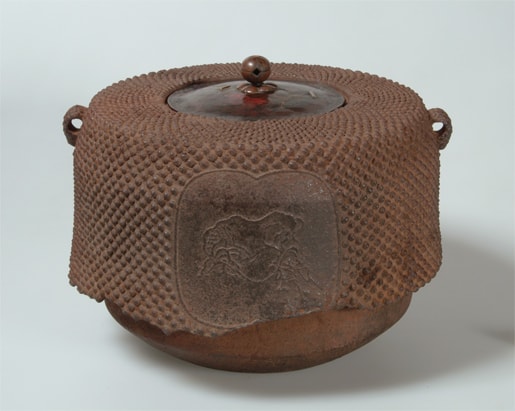 Tea Kettle with Dots and 'Jugyu-zu' (Zen Picture),
Muromachi period (15th–16th century)
The Kimura Teizo Collection gathers together tea kettles from a truly wide range of regions and time periods, from the simple items used in the Muromachi period to the newly fashioned kettles prized in the Momoyama period and the diverse kettles of the Edo period. The uchiwa-shaped windows in the body of this work contain jugyu-zu (pictures portraying the ten stages to Zen enlightenment in terms of the relationship between an ox and a herdsman) with different designs on the front and back. It is thought to have been produced in Ashiya, a port town at the mouth of the Onga River in Fukuoka prefecture, which gained a reputation as a producer of tea kettles from the Nanbokucho through Muromachi periods.
From Modern and Contemporary Art